Event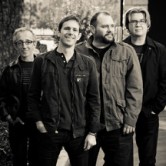 Toad the Wet Sprocket W/Emily Hearn
Venue:

Monday Night

Doors:

7PM

Tickets Available at Door
Tickets are $35 and available at the door… (Doors 7PM) Early Show…
When Monty Python's Eric Idle created the fictional band "Toad the Wet Sprocket" for the program "Rutland Weekend Television" in 1975, he never dreamed that anyone would actually use such a silly name. Fast forward to 1986, when four California teens adopted the monicker as a joke for their first gig at a Goleta, CA watering hole called The Shack.
http://toadthewetsprocket.com
http://emilyhearn.com/
Against all odds, the joke became permanent. "Toad the Wet Sprocket" has been touring ever since with all four original members: lead singer Glen Phillips, guitarist Todd Nichols, bassist Dean Dinning, and drummer Randy Guss. From 1989-1998, they made 5 studio albums which combined sold over four million copies, had five major radio hits, and won over audiences across North America and Europe.
After breaking up in 1998, Toad would get together sporadically to play shows on a casual basis, but their hard core fans never gave up hope for a new album. After successful tours in 2006-2010, the band finally decided to put the last piece of the puzzle in place, and committed to working together on new music. They also decided to update their classic catalog, and created a new Greatest Hits album "All You Want", which came out in 2011.
Toad the Wet Sprocket are currently in the studio with producer Mikal Blue, and fans can look forward to a new release and extensive tour in 2013-14.