Event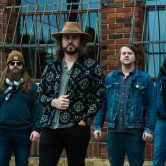 Vegabonds W/Saluda Shoals
Tickets are $5 available online or at the door .. Doors 9PM Show is 10ish
Ages 21 Up or with Parent
Born in Alabama. Bred in Nashville. Seasoned by the Road. Celebrated the world over. Come let your hair down with The Vegabonds.
With their third European tour under the belt, three full-length albums including a fourth nearing completion, and a gravitational pull to their growing fan base down every American highway, the Vegabonds are on a musical pilgrimage to spread the gospel of pure, unadulterated New South Rock.
Some might assert that their sound is Americana, while others may consider them to be true rock 'n' rollers. Regardless of what fans like to call them, the Alabama-born, Nashville-bred quintet is pulling themselves up by the bootstraps just in time for 2018, forging ahead into the future by avoiding pigeon holes.
A group of five musicians with myriad influences between them, The Vegabonds are fronted by lead vocalist and songwriter Daniel Allen, with Richard Forehand (lead guitar/vocals), Paul Bruens (bass), Beau Cooper (keys/vocals), and Bryan Harris (drums) rounding out the quintet.
The Vegabonds released their critically acclaimed record, "What We're Made Of," with the help of Grammy-nominated producer Tom Tapley, whose portfolio includes that of Elton John and Bruce Springsteen, among others. Tapley returned to record The Vegabonds' latest single, "Long Haired Country Boy," now available on iTunes and Spotify.
"Long Haired Country Boy" gives listeners a taste of the upcoming album slated for early next year as they breathe new life into the Charlie Daniels Band's country classic. Their modernized rendition of this legendary ballad pays homage to the hard-working, blue-collar lifestyle of the Deep South, but with an electrified, psychedelic intensity that only The Vegabonds can conceive. As they steadily become one of the most sought after, highly-acclaimed Southern Rock bands in music, The Vegabonds' roots run deep, even alongside the fan base having now extended across the U.S. and Europe. Their devotion to music and their tireless tour schedule illustrates their laser-sharp focus on growing into one of the biggest names out of Nashville, while never forgetting their humble beginnings.
The Vegabonds got their start in 2009 by playing the college circuit across the Southeastern United States. Their popularity quickly burgeoned to the point that they found their fans singing along word-for-word to their first hits like "Georgia Fire" and "American Eyes." From Ole Miss to South Carolina, students were buzzing about The Vegabonds' authentic sound and their seemingly effortless ability to bring the house down. Through pure word of mouth, the group's fan base grew rapidly, and the guys learned they had something distinctive with their eclectic mix of Southern Rock, Country, and earnest songwriting.
With a sound reminiscent of Tom Petty & The Heartbreakers mixed with the grit and twang of the Allman Brothers Band, The Vegabonds give their fans a sensational performance with powerhouse guitar riffs and impactful songwriting night after night. Their hard work and unbridled talents have not gone unnoticed; the group has opened for such notable acts as Lynyrd Skynyrd, the late Gregg Allman, and Kid Rock, among others. Rousing performances at festivals like Peach Fest, Magnolia Fest, Sunfest, and Toadlick grew their notoriety nationwide, leading to a west coast tour that formed in-roads with the music and comedy community in Los Angeles. It's no wonder that Live for Live Music has compared them to musical legends like My Morning Jacket and The Black Crowes, calling them "a force to be reckoned with," complete with "gorgeous harmonies and impressive instrumental skills mak[ing] for a perfect combination."
With their focus on growth, The Vegabonds have much in store for old and new fans alike. Upon returning from their third European tour, the band's focus will shift to perfecting their highly-anticipated new album, slated for release in early 2018. With a new management and publicity team behind them, their New South Rock sound is destined to reach an even broader audience than ever before. The band is excited to bring in new blood to achieve their overall strategic vision.
Saluda Shoals
A stylistically unique roots rock band from day one, the members of Saluda Shoals have been singing, performing, and playing in sync as if they'd been together their entire musical careers. Throughout the course of the band's union, they have won over the hearts of music lovers from all walks of life; performing at a variety of venues, making loads of public appearances, all the while writing and recording new music. Learn more by exploring the site, and feel free to get in touch with any of your comments and questions.
https://www.saludashoalsband.com