Event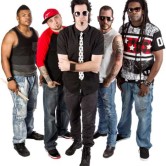 Villa*Nova W/ Jordan Miller of The Movement
Venue:

Friday Night

Doors:

9pm – 01:30 am

Tickets Available at Door
Ticket are $5 at the door (Door 9pm Show start at 10PM)
Villa*Nova turns rock 'n' roll upside down. Hailing from Columbia, SC, the band distills elements of funky pop and rock into a hypnotic hybrid. Villa*Nova prides itself on making music with solid grooves and soulful, dynamic lyrics provided by lead vocalist/guitarist/song writer BC Villa*Nova, fluid and funky bass lines by Bobby Dredd bombastic fantastic, rock solid drummer (and backing vocals) Young Sean, amazing harmony vocals and rhythm guitar by Brandon Hooker, and turntable wizadry and keyboards by DJ Able One.
http://www.thepier.org/jordan-miller-the-executives/
Their infectious sound has earned them thousands of fans nationwide. Villa*Nova, currently independent, was previously signed to Universal Republic (now Republic) and recorded their 2012 debut "WTF the EP" in LA with super producer Howard Benson (Papa Roach, Daughtry, Hoobastank, Seether) under the band name Weaving The Fate. They have shared the stage with everyone from Korn, Shinedown, Evanescence, Slash, AWOLNATION, Staind, Chevelle, Filter, Crossfade, Dirty Heads, Nappy Roots, REHAB, and the list goes on.
They've been called contemporaries of break out bands such as AWOLNATION, Imagine Dragons, and Arctic Monkeys where heavy rebellion meets pop sensibilities.
Noteworthy performances and accolades:
Toured the Southeast and Midwest on a 30+ city Jagermeister-sponsored tour as direct support for Crossfade, and performed two sold-out shows with Evanescence in Kansas City.
Played at Carolina Rebellion 2012 with Slash, Staind, KORN, 5 Finger Death Punch.
Were named best Local Band of 2014 by the Free Times Weekly in Columbia, SC.
Their singles "Str8 to the Bottom" and "Rack City" charted nationwide and were featured on such prominent stations as Sirius XM Octane and KROCK LA, among many others.
Performed at Famously Hot New Year 2013/14 with ZZ Ward and Kool n The Gang.
Sponsored by ColdCock Whiskey, Jägermeister, Tempur Surf Productions,
Artists We Also Like Prince, RHCP, Janes Addiction