Event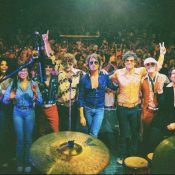 Yacht Rock Revue- Monday
Tickets
Doors 6:00 Show 7:00ish…
Ages 21UP or with Parent
https://www.yachtrockrevue.com
What is left for Yacht Rock Revue to prove? This top-notch group of musicians has
already rocked onstage with John Oates, Eddie Money (RIP), and both versions of the
band Player. They've trademarked the term "yacht rock," both metaphorically and
literally (U.S. Registration Number 3834195). From humble beginnings in a basement,
touring in partnership with Live Nation and Sirius XM, they now headline sold-out shows
across the country, from Webster Hall in New York to the Wiltern in L.A. While rising
from bars to amphitheaters, they've ticked every box on the Rock Star
Accomplishments bingo card. Except for one: Writing and singing their own songs.
Yacht Rock Revue's first original record is ten songs inspired by the smoooooth sounds
of the Seventies and Eighties. They've brazenly titled it Hot Dads In Tight Jeans –
forgive them for bragging, but that's what they are – and it returns Yacht Rock Revue to
their roots in original music.
"I had a midlife crisis. That's why we made this album," says Nick Niespodziani, the
group's singer, guitarist, and spiritual leader. "Everyone in the band is a dad now, so we
needed to make this happen, before we become grandpas. I've sung 'Escape'
by Rupert Holmes at least a thousand times, and if that isn't paying your dues, I don't
know what is."
It's rare that musicians in their 40s chase their rock star dreams. You'd have to be crazy
to try. YRR knew they were underdogs, but resolved to take one more shot at the Top
40, and maybe even become a Cinderella story of midlife fulfillment.
Yacht Rock Revue began in the least-yachtiest of states, 2,000 miles from breezy
Marina del Rey. Niespodziani and Pete Olson met in the fourth grade in suburban
Indiana, went on to Indiana University in the late Nineties, formed the band Y-O-U, then
escaped – Rupert Holmes reference intended – to Atlanta. One night, Y-O-U tucked
their tongues deep in their cheeks and played a show of Yacht Rock songs. The rowdy
(a nice way of saying drunk), sold-out crowd loved it.
When the club owner asked them to do it again, Niespodziani didn't want to. But the
club owner had an ace up his sleeve: money.
Over the years, YRR (there's also a Dave, a Greg, and literally three guys named Mark)
have turned themselves into human wine spritzers, playing 120 to 150 shows a year,
mastering Yacht Rock's slick chords and mellow grooves, and partying like it's 1979.
What began as a joke among friends soon put a ripple in the zeitgeist, starting a
national trend through YRR's concerts, lauded as "unabashedly joyous affairs" by
Entertainment Weekly. They accumulated an extensive wardrobe of white belts and
polyester shirts. Yacht Rock Revue were revered and well-compensated! Their life was
a tenor sax solo! This is what every musician wants.
But even as YRR was sailing the smooth seas of tribute-band superstardom, and the
band members all became dads, Niespodziani was still writing original songs. These
new tunes had the spirit of Yacht Rock, but were more modern – akin to Phoenix or Air,
the hip bands that adapted Yacht for a younger audience. They brought the songs to a
hot producer, Ben Allen, who's worked with Gnarls Barkley, Animal Collective, and
Neon Indian. Allen gave the songsa lustrous shine, for both new audiences and their
ever-loyal fans, the Nation of Smooth. Niespodziani and Olson even co-wrote a song,
"Big Bang," with Yacht Rock master Matthew Wilder, famous for his massive 1983 hit
"Break My Stride."
"Step," the record's first single, is a peppy number replete with falsetto and bumping
bass, a cross between the Bee Gees and Steely Dan's "Peg." It's also the mission
statement for the album in a way, because it's about deciding who you want to be, and
making space for that in your life. The seven-piece band display tight chops, and the
songs incorporate Yacht Rock Revue's sense of humor, especially on the funky,
pro-margarita "Bad Tequila," the flute-fired "Another Song About California," and
opening track "The Doobie Bounce," where Niespodziani brags, "I used to sleep on
couches/Now I sleep on nicer couches."
Hot Dads In Tight Jeans is as plush and shiny as Kenny Loggins' beard. And YRR are
already dropping these new songs into their sets, to great response from longtime fans
who are thrilled to hear new smooth. While others in YRR's position stick with the
tried-and-true, Niespodziani hopes the album will let them welcome aboard new fans,
too. To paraphrase a notable mariner… they're gonna need a bigger yacht.
"Here's how I see it," Niespodziani concludes, sliding into a waiting limousine. "We have
only one fewer hit than Player did, and Player is immortal. We built this Yacht Rock
thing on the power of memories and good vibes. None of that is changing; we're just
gonna make a few new memories as well."