Event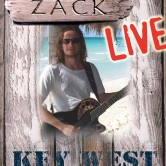 Zack Seemiller
Venue:

Friday Afternoon

Doors:

6 PM – 9 PM
On the Back Deck…FREE
The Hardest working Musician in Key West
WHO IS THIS ZACK?
Grew-up Westside Pittsburgh, PA.
Cut his teeth working the Israeli T-shirt shops in Myrtle Beach.
Moved to Hollywood and worked the Sunset Strip seeking fame & fortune.
Formed GrooveYard as lead singer/songwriter.
Released 1st album, Mileage.
Drove to Key West. Lived in his van. Played music in the streets and at Mallory Square.
Released 2nd album, Live on the Rock.
Became Sun worshipper & Freshwater Conch.
Moved into Blue Heaven (became student of Guru Fishboy).
Released 3rd album, Kokopelli.
Purchased house in Old Town Key West.
Opened for Jimmy Buffett in hometown, Pittsburgh.
Referred to as "Hardest Working Man in Key West."
Purchased 3rd home in Austrian countryside with local farmgirl.
Begins recon missions to Mexico and Jamaica.
4th Album released, Sunshine & Rain.
Successful European Tour ends with grand finale at German Cowboy Park, Pullman City.
5th Album released, Zack: Live in Key West.
And the Story Continues . . . . . . .