Event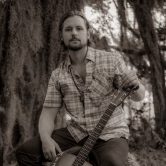 Andrew Beam Band On The Bud Light Seltzer Beach Stage
Tickets are $10
Doors 5pm Showtime is 6:30
"Looking back, music should have always been the answer," claims Andrew Beam as he reflects on his life. Beam and his distinct dialect originally hail from the mountains of North Carolina. Although born in Statesville, the small town of Cashiers was the early stomping ground for this country singer. Beam's father, a Methodist preacher and musician, began teaching him how to play guitar at age 11. Ricky Skaggs and other gospel bluegrass artists were the young picker's first influences. He soon found himself playing in church services and attending pickup sessions at Old Timers' Day in Cades Cove, Tennessee. In middle school, Beam broadened his musical horizons as the lead guitarist for a band organized by a 7th grade science teacher. This "School of Rock" experience ran the gamut of artists, from Lynynrd Skynyrd to Green Day, and ultimately built the foundation for playing live music down the road.
"Why write a song about a girl, when I could write one about a truck?" Beam jokes looking back at an early songwriting experience. He wrote his first song, "The Girl I Love," as a senior at Westside High School in Anderson, South Carolina. The original idea of writing about a recent breakup was thwarted by an '86 Chevy, providing comic relief to listeners as the love of a first truck overcomes the heartbreak of a first love. Beam began to dabble as a vocalist and credits Eric Church as his biggest singing and songwriting influence. After seeing Church in concert at Littlejohn Coliseum during the spring of 2010, a strong desire to pursue music overcame him. Beam entered Clemson University in the fall of that same year, and after switching majors from Pre-Med to Wildlife Biology before his sophomore year, many of his friends and classmates urged him to play downtown Clemson after experiencing a live performance at a party on Lake Hartwell. Subsequently, Beam met Ryan Jewel, another fellow classmate and aspiring musician. These two harmoniously clicked, and Beam & Jewel was born. The duo found themselves playing everywhere from sorority/fraternity functions to frequently headlining The Esso Club, one of the most iconic venues in Clemson. Upon graduation, Ryan Jewel moved to Nashville, and Beam kept his guitar on the backburner to start a career related to his major.
The historic city of Charleston, South Carolina became Beam's new home. After several years of working full-time as a Game Warden and occasionally playing at social gatherings, he had a long, heartfelt talk with former band member Ryan Jewel. This conversation in regards to the declining direction of real country music refueled the flame for songwriting. The unique characteristics of Lowcountry life were shaped into words and rhymes as local support rapidly spread. Beam wrote "Wadmalaw Saturday Night," an upbeat ballad paying tribute to the small island community reminiscent of his hometown and its residents who quickly became his second family. After playing an event in Wadmalaw, a local friend introduced him to producer and acclaimed jazz guitarist Joe Taylor. Two days later, Beam found himself sitting in front of the world-renowned studio ace and owner of Salt Creek Studios located in Bennett's Point, South Carolina. He began working with Taylor in the studio during the winter of 2017 and has since opened shows for touring acts Chase Bryant and Aaron Tippin. Beam's three singles, "The Beam in Me," "Three Sheets," and "Selma by Sundown" were released in 2018.