Register for cornhole Tournament here: https://www.cornholewindjammer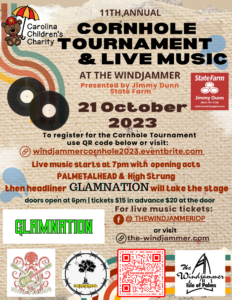 About this event
11th Annual Carolina Children's Charity
CORNHOLE TOURNAMENT
Presented by Jimmy Dunn State Farm Insurance Agency
Saturday, October 21, 2023 at The Windjammer
Front Beach, Isle of Palms – on the Beach Volleyball Court
All Registrations must be completed online @ www.WindjammerCornhole2023.eventbrite.com before 1:45 pm.
On site check in will be from 12:45 pm – 1:45 pm. On site check in will verify that you are in attendance and ready to play.
Liability waivers must also be signed by BOTH team members.
NO LATE check ins will be accepted.
Brackets for teams that have checked in will be pulled at 1:45
and play will begin at 2 pm.
$40.00 per team – 2 players per team
Participants must be at least 18 years old or accompanied
by their parent or legal guardian.
Registrations are limited, so please sign up early to reserve your spot.
Please call Shannan at 843-224-7723 if you have questions regarding the cornhole tournament.
LIVE Music following the tournament – participants will get in FREE.
Scoring is simple. After all bags have been thrown, a bag remaining on the board is worth 1 point. A bag that went in the hole is worth 3 points. Add up how many points you earned and compare them to your opponents. Equal points cancel each other out so that only one team can score per round. For example, if you scored 5 points and your opponent scored 3, you will add 2 points to your overall score and your team will throw first in the next round. If you scored 6 points and your opponent scored 6 as well, there will be no points awarded and whoever threw first in the last round will throw first again. A game is won when a team reaches 21 points.
*Must use provided bags- not your own.*