Event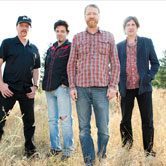 Cracker W/The Whiskey Gentry
Venue:

Saturday Night

Doors:

9PM

Tickets Available at Door
Tickets are $20 DOS…Doors 9PM
Cracker have just released their tenth studio effort, entitled Berkeley To Bakersfield, a double-album that finds this uniquely American band traversing two different sides of the California landscape – the northern Bay area and further down-state in Bakersfield.
http://www.crackersoul.com
http://www.thewhiskeygentry.com/
Despite being less than a five-hour drive from city to city, musically, these two regions couldn't be further apart from one another. In the late '70s and '80s a harder-edged style of rock music emerged from the Bay area, while Bakersfield is renowned for its own iconic twangy country music popularized, most famously, by Buck Owens and Merle Haggard in the '60s and '70s. Yet despite these differences, they are both elements that Cracker's two cofounders, David Lowery and Johnny Hickman, have embraced to some degree on nearly every one of their studio albums over the last two decades. On Berkeley To Bakersfield, however, instead of integrating these two genres together within one disc, they've neatly compartmentalized them onto their own respective regionally-titled LPs.
As Lowery explains, "On the Berkeley disc the band is the original Cracker lineup – Davey Faragher, Michael Urbano, Johnny and myself. This is the first time this lineup has recorded together in almost 20 years. We began recording this album at East Bay Recorders in Berkeley, CA. For this reason we chose to stylistically focus this disc on the music we most associate with the East Bay: Punk and Garage with some funky undertones. To further match our sense of place we often took an overtly political tone in the lyrics."
"This Bakersfield disc represents the 'California country' side of the band. Throughout the band's 24-year history we've dabbled in Country and Americana but this time we wanted to pay homage to the particular strain of Country and Country-Rock music that emerges from the inland valleys of California."
Cracker has been described as a lot of things over the years: alt-rock, Americana, insurgent-country, and have even had the terms punk and classic-rock thrown at them. But more than anything Cracker are survivors. Cofounders Lowery and Hickman have been at it for almost a quarter of a century – amassing ten studio albums, multiple gold records, thousands of live performances, hit songs that are still in current radio rotation around the globe ("Low," "Euro-Trash Girl," "Get Off This" and "Turn On, Tune In, Drop Out With Me" to name just a few), and a worldwide fan base – that despite the major sea-changes within the music industry – continues to grow each year.
The Whiskey Gentry
Amongst many attempts to describe The Whiskey Gentry, perhaps the best take was from Paste Magazine, who called them a "toe-tapping, steamrolling kind of band, its fingers picking deep into fields of bluegrass…with a punk-inspired kick drum."
The Whiskey Gentry's catchy tunes reel in listeners ranging from young music novices to wider mainstream audiences, while their musical chops earn the professional praise and respect of those with the most sophisticated of musical palates.
Initially a quintet formed by husband and wife duo Lauren Staley and Jason Morrow, the band's 2011 debut album, Please Make Welcome, became a critically-acclaimed success, garnering official recognition as a finalist in the Chris Austin Songwriting Competition held at MerleFest. While touring in support of the record, the full lineup was solidified, with Michael Smith on mandolin and Rurik Nunan on fiddle/vocals joining Chesley Lowe on banjo, Sammy Griffin on bass, and Price Cannon on drums.
For their 2013 sophomore effort, Holly Grove, the band once again sought the talents of engineer and co-producer John Keane (R.E.M., Uncle Tupelo). In early 2013, the band successfully rallied fans to help fund the studio sessions through a Kickstarter campaign. Local artists and established pros alike pitched in as well, creating a true ensemble effort on songs such as a duet with Butch Walker on "One Night in New York," and cameos throughout the album by Les Hall, the Dappled Grays, and Radiolucent. Mastered by Glenn Schick (Indigo Girls, Drive-By Truckers), Holly Grove infuses elements of country, bluegrass, folk, rock, and punk with a mix of poppy and poignant lyrics, fiery and heartfelt vocals, traditional and progressive sounds, honesty, edginess, and entertainment all around.
With two studio albums under their belt, April 2014 saw the release of Live From Georgia on Goose Creek Music, which captures the raw energy and powerful stage presence fans have come to expect at live shows. Indeed The Whiskey Gentry is riding a wave of momentum. Holly Grove peaked at #16 on the Americana Radio Chart, they continue touring extensively up and down the East coast from Tampa to Boston, through Texas and Louisiana, the Midwest, and many points in between, and look forward to a return trip to Europe in September 2014. Luring listeners in, capturing their ears, hearts, and minds, and blazing new trails in Americana music and beyond, The Whiskey Gentry is only just warming its heels.
Hunter S. Thompson wrote that "the whiskey gentry" was "a pretentious mix of booze, failed dreams, and a terminal identity crisis." Though they are never lacking offers from fans for a shot of whiskey, their dreams are becoming reality, their identity is distinct, their future on a steady crescendo.