Event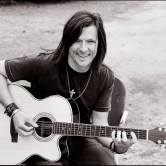 Eddie Bush…Happy Hour "Thursdays on the DecK"
Venue:

Thursday Afternoon

Doors:

06:30 pm – 9pm
Every Thursday on the Back Deck With Plenty of Drink Specials from Our New Back Bar…
Biography
Eddie Bush picked up his first guitar when he was four years old and it was "love at first strum". Mesmerized by its sound, Eddie spent hours strumming his father's golf club trade in, and inspired by The Beatles, Elvis, the Osmond Brothers and Glen Campbell, Eddie began to develop his natural singing talent and gift for the guitar at a young age. Barely 12, Eddie discovered the larger-than-life theatrics of KISS and knew then that "there was absolutely no question that music was my calling."

http://EddieBush.com
http://Facebook.com/EddieBush
http://Twitter.com/Eddie_Bush
http://ReverbNation.com/EddieBush
http://itunes.apple.com/us/artist/eddie

Eddie had formed his first band before he entered junior high school and by the time he was 16, Eddie was playing club dates as lead guitarist and singer with his own original rock bands. With Jimi Hendrix and Eddie Van Halen as major influences in the development of his playing style, Eddie committed himself to becoming a great guitar player.
An in-demand live performer, Eddie built a strong following and became well known for his charismatic stage presence and virtuosic guitar licks. In 1987, Eddie met renowned Texas guitarist Eric Johnson after attending one of his shows, and a few years later, after hearing some of Eddie's music, Johnson contacted Eddie and offered him the opportunity to tour with him. "In 1996, Eric took me on the road with him where I played House of Blues venues doing solo acoustic sets in front of 1,800 guitar fanatics each night. That success really opened my eyes and I realized I had a lot more I could bring to the table. Playing the solo acoustic sets, I learned that singing and songwriting were just as important as the guitar playing, and I quickly began to focus on my creativity as a songwriter."
As a result of touring with Eric Johnson, additional opportunities were presented to tour with or open for well-known artists, including Keith Urban, Ted Nugent, Sammy Hagar, Heart, Alison Krauss, Cheap Trick, Eddie Money, .38 Special, REO Speedwagon, Jefferson Starship, Georgia Satellites, Montgomery Gentry, Rick Springfield, Steve Morse, Delbert McClinton, Little River Band, Charlie Daniels, and the late Jeff Healy, among others. To this day, the V2 tour with Eric Johnson remains a personal highlight of Eddie's career.
2001 found Eddie in the national spotlight. In the days following the tragic events of 9/11, Eddie, anguished by a smothering cloud of grief, anger and continuing disbelief, wrote the moving anthem Spirit of America. A local radio station in Charleston, S. C. heard and requested a recording of the song, and two days later Spirit of America was getting played hourly on every Clear Channel station in Charleston.
Spirit of America was played in heavy rotation by local, regional and national stations, including Z100 in New York and the Howard Stern Show, and it quickly found its way to U.S. Navy ships in the Persian Gulf. Passed from person to person, and without radio promoters or publicists, Spirit of America seemed to strike a nerve with Americans domestic and abroad. Committed to helping renew the spirit of Americans, all proceeds from the sale of Spirit of America were donated to 9/11 disaster relief efforts. "For the first time in my career, I was witnessing music making tangible impact. It was one of the most rewarding experiences of my life, in the shadow of the most traumatizing day in our nation's history."
On the heels of the success of Spirit of America, Eddie was approached by Charleston, SC's local police who asked if he would write a song for police officers. Eddie was then invited to perform his tribute to fallen officers, The Thin Blue Line, at the 22nd Annual National Peace Officers' Memorial Day Services in Washington, D.C. in front of President Bush and 30,000 police officers. "Performing at the Memorial was an important opportunity for me. The event was highly publicized and as a result, Fox News Channel's Fox & Friends invited me to perform The Thin Blue Line live on the plaza at Rockefeller Center, giving me my first serious national exposure." Keeping with the spirit of supporting our fallen heroes, a portion of the proceeds from sales of The Thin Blue Line is donated to The National Law Enforcement Officers Memorial Fund.
In 2005, Eddie released the self-titled "Eddie Bush", which featured Hard to Stop a Train, Eddie's first Billboard charting single. Hard to Stop a Train and its accompanying video were featured frequently on GAC (Great American Country) and CMT (Country Music Television). The national success of Hard to Stop a Train led to a fortuitous introduction to GRAMMY® winning songwriter Marcus Hummon.
Having attended one of Eddie's live performances in Nashville, Hummon was impressed by Eddie's guitar-slinging talents and breadth of vocal range. Looking for the perfect artist to round out a trio he was creating, Hummon invited Eddie to meet with Chris Roberts and Royal Reed in Nashville. Roberts said, "From the first moment the three of us sang together it felt like home." Reed added, "There was something about the way that we all came together. Musically, it all just fell into place; it just felt right."
In August 2005, Eddie, Chris and Royal formed the trio One Flew South and were quickly signed by Decca/Universal in New York. One Flew South's debut album "Last of the Good Guys" included their Billboard Hot Country single My Kind of Beautiful and the album included collaborations by award-winning songwriters Marcus Hummon, Darrell Scott and JD Souther.
"Last of the Good Guys'" Let the Day Carry You and She's a Gift were co-written by Eddie and Souther. "Having the opportunity to write with a legend like JD was one of those moments where you pinch yourself; first, for the sheer experience of creating music with such a great master of the craft, and then when reveling in the beauty of the end result. I'm very proud of our work together."
Souther, who co-wrote the Eagles' classics Best of My Love and Heartache Tonight, said, "It's been my good fortune to work with excellent writers and singers, and with beautiful echoes of the great harmony groups like Poco, Eagles, and even The Beach Boys, One Flew South is right in that vein of turning good melodies into the harmonic adventures you hope for when you write these kinds of songs."
Touring heavily between 2007-2009, One Flew South performed at legendary festivals and theaters throughout the U.S., including Farm Aid's 23rd Annual benefit concert in Massachusetts and the annual Newport Folk Festival in Rhode Island.
A passionate advocate of music education, Eddie has been teaching guitar and music for nearly 20 years. In 2009, Eddie partnered with EdisonLearning, a company aimed at assisting teachers and communities to improve public schools and boost student performance. At the request of EdisonLearning, Eddie composed Power of You, which incorporated EdisonLearning's core values of Wisdom, Justice, Courage, Compassion, Hope, Respect, Responsibility and Integrity.
Power of You became EdisonLearning's empowering theme song, and Eddie traveled to EdisonLearning schools nationwide visiting and singing with students, further encouraging their love and appreciation for music. With Eddie's leadership, EdisonLearning developed a music curriculum that they hope to implement throughout their schools in the near future.
In the fall of 2010, Eddie released his first Christmas single I C Christmas, which received frequent airplay on Clear Channel stations throughout America. A clever, fun and catchy tune, Eddie hopes to see I C Christmas on family holiday play lists for years to come.
In January 2011, Eddie created the Alex Bush Memorial Scholarship Fund of the Charleston School of Law to honor his brother Alex who, along with Alex's fiancée, was tragically killed in an automobile accident in December 2010. The Alex Bush Memorial Scholarship Fund was created with the hope that it will give other students financial support in their pursuit of the career in law that Alex was also working towards. Contributions to the Fund can be made at http://www.charlestonlawfoundation.org/donate.htm.
In January 2011, Eddie won the "New Country Artist Search" Competition at OurStage.com (MTV Partner). With thousands of online votes and more than 300 artist entries, Eddie's unreleased single Calloused Hands placed first among the voters and OurStage.com judges. In March, Another Dry Place, from Eddie's 2005 self-titled album, was entered into Kiefer Sutherland's "The Confession" Song Competition, and placed first among 1,700 artist entries from all genres on OurStage.com.
In December 2011, Eddie released his debut Christmas album, "Holiday Harmonies", a follow up to his 2010 single I C Christmas, and in December 2012, released his long anticipated album "Calloused Hands". The album, two years in the making, is a "celebration of my brother as it is a celebration of my creative energy."
"I live my life in and around music, and it's all I've ever known. The biggest reward is the energy I receive from all the effort that goes in to each project and performance. Music is an evolution; it's all about the journey! I've met very talented and amazing people along the way and I look forward to that continued journey. The path isn't always planned, but it is always straight ahead!"