Event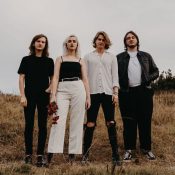 Flipturn on the Liquid Aloha Beach Stage
Tickets $20 DOS $25
Doors 6:00 Show at 7:00ish…
Ages 21UP or with Parent
https://flipturn.band
flipturn began in 2015 with a shared love for live music in the small island town of fernandina beach, florida. the chemistry from their first garage rehearsal was undeniable, and sharing that magnetic energy with crowds through live performance seemed inevitable. although their origin story shares similarities to that of many other bands; their sound, raw magnetism and steep trajectory are unmatched by anyone among their ranks.
the flipturn roll call is dillon basse (lead vocals/rhythm guitar), tristan duncan (lead guitar), madeline jarman (bass), and mitch fountain (synth). fans are drawn to the rarity of both strong female and male presences within the band that foster a sense of inclusion in the musical experience. the fever dream energy of their live shows has positioned flipturn as a metaphorical musical sun, holding fans in a trancelike orbit.
there is nothing held back while the band is performing. basse's vocals possess the innate ability to simultaneously shake the physical walls of a room and shake loose latent emotions within a listener. the chemistry and talent shared between the bandmates allows for a total release of inhibitions. their songs are written in an artfully understandable way that makes flipturn the storytellers for a generation of people who were never told what to do next.
flipturn's music has spread to a national and international audience of music lovers entirely through organic word-of-mouth and grassroots efforts. with over 25 million streams on spotify, the band shows no signs of slowing down. the development of the band's songwriting and artistry is apparent, as each release receives more praise than the last. of flipturn's 2018 sophomore ep citrona, pandora music said: "citrona is a polished, dynamic display of raw emotion and pure talent that leaves you craving more."
the band's concert resume is equally impressive, having sold out 500 capacity rooms of screaming fans, played festival stages like okeechobee music festival, and provided direct support for the likes of mt. joy, saint motel, japanese breakfast, and magic city hippies.
in february 2020, flipturn released their third ep, something you needed, marking a turning point for the band both musically and lyrically. something you needed manages to maintain the band's familiar, high energy sound while experimenting with more instrumentation than any previous record, including strings, piano, horns, glockenspiel and a large variety of analog synthesizers. basse's lyrics explore the hierarchy of human needs, and the search for fulfillment on the path to self-actualization. the new ep is a cohesive collection of tracks that tell stories of people in search of fulfillment, and their discovery that nothing in this life is owed to us.
as of june 2021, flipturn has shifted their focus back to writing. the band plans to return to the studio to write and record their first ever full-length album, and looks forward to the day when it is safe to bring their energy back to a live audience.