Event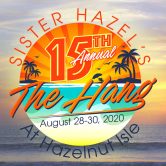 Sister Hazel's – Hang on Hazelnut Isle
Venue:

Friday, Saturday & Sunday

Doors:

4PM
Weekend Packages Price: $239.99
AFTER July 29th: $259.99
Sister Hazel & their Hazelnuts invade The Windjammer and Isle of Palms for the 15th year!!!
An Exclusive Weekend Event with Sister Hazel
– Exclusive "Dinner Show Hang" feat. Dinner with Sister Hazel followed by a Private VIP Concert
– VIP Front Access to Sister Hazel Saturday Sunset Concert on the Beach
– Photo and Autograph Opportunity with Sister Hazel at Check-In
– Saturday Hot Hangover Breakfast & Private Acoustic Concert with Ken & Drew
– Saturday "Ale For You" Bar Olympics
– Sunday Sister Hazel Concert
– Limited Edition 15th Annual Hang Swag
– Admission to The Windjammer's Friday and Saturday Night Concerts
In 1994, Hootie & the Blowfish released "Cracked Rear View" with hit singles "Only Wanna Be With You" and "Hold My Hand."
That same year, Sister Hazel released another radio hit in the same breezy, love-centric vein, "All For You," with its contagiously catchy chorus, "It's hard to say what it is I see in you, wonder if I'll always be with you."
The two contemporary pop-rock bands from the South (Hootie in South Carolina and Sister Hazel hailing from Florida) were buds, says lead singer Ken Block. They used to run into each other in the familiar touring circuit of venues across the Southeast. And one of those overlapping venues that became a mainstay for both acts was The Windjammer on Isle of Palms.
"Our history with Bobby Ross and The Windjammer goes back probably to '95," Block says of the beachfront venue and its longtime owner. "It was kind of legendary for original bands in the Southeast."
Because of its impact on Sister Hazel over the years, The Windjammer hosts the band's annual three-day, full-weekend "Hazelnut Hang." "Hazelnuts" are what the band has dubbed their loyal fans. This year, it's May 29-31. They've been doing it every summer for 14 years.
Block owes it to the venue founded in 1972 that shaped an entire music generation. In Charleston, there was also Cumberland's, Myskyns and the Music Farm, he says. But there was a special magic to The Windjammer.
"Having a good show at The Windjammer was 10 times more powerful than playing for a normal local audience," Block says. "People are already in a great frame of mind, already there to cut loose, make some memories and have great experiences with the people they love."
The Windjammer was such an integral name in the touring circuit, in fact, that Block left his honeymoon a day early when another group canceled at the venue, giving Sister Hazel a chance to play a gig there with the Freddy Jones Band.
He described being accepted at the 'Jammer as being accepted into a fraternity of original bands at the time. It was a bonding camaraderie, and it was validating. The first time Sister Hazel sold out the venue, Block says he felt like they had made it.
That vacation mindset and ocean-inspired carefree atmosphere contributed to many free-spirited and occasionally "debaucherous" nights at the beach, Block says. He recalls being barefoot or flip-flopped on stage and maybe having a few too many tropical cocktails.
"For whatever reason, people wanted to lose their clothes and run into the ocean," Block says with a mischievous laugh. "I'm not naming any names though."
It's because of those good vibes and good memories created on the Isle of Palms in their '90s heyday that Sister Hazel decided to keep coming back for 25 years.
At the annual Hazelnut Hangs, the band now sells a VIP experience that includes multiple acoustic and electric concerts, meals, day parties and evening hangs. Block says they've hosted live band karaoke before, and this year there will be a scavenger hunt.
This time around, there also will be new music. Sister Hazel is in the process of releasing four EPs, each coinciding with a natural element. So far, there's "Wind," "Water" and "Fire." "Earth" is coming.
"To go from pulling up in a van and trailer to having your tour bus pull up front and it still be the same venue you've been at from the beginning and still see your music resonate with so many people, it's a powerful thing," Block says.
The Windjammer is still kicking, and so is Sister Hazel. Sometimes it's the old laid-back and low-key reliables that hang around the longest, Block says.
"Are we on the cover of Rolling Stone? No. But we're doing what so many bands dream of doing their whole lives," Block says.