Event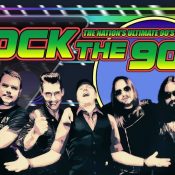 Roc the 90's on the Bud Light Seltzer Beach Stage
Tickets $10
Doors 6:00 Show at 7:00ish…
Ages 21UP or with Parent
If for any reason this show needs to be moved in doors…Only the first 400 tickets will be valid for entry…Out door only tickets will be marked before purchase and automatically refunded to the Credit Card used to purchase!
WARNING: If you're expecting bright neon colors, cliche 90's attire and contrived, karaoke style performances…you've come to the wrong place.
90's rock-n-roll was never about that…
Ever.
Rock the 90's USA: The Official 90's Rock Tribute (formerly Broadcast 90: The Ultimate 90's Rock Tribute) takes you back to the glory days of guitar driven rock – an eclectic buffet of all the best in 90's alternative radio rock – performed exactly like the original recordings. No hiding behind gimmicks or costumes – Rock the 90's brings you a high-energy 90's rock show that will take you back to a time when alt-rock ruled the airwaves.
Rock the 90's is not just a band, it's an experience. A well-rehearsed, high-energy show that travels the road of 90's rock on all levels, including the detours and back roads of an often forgotten decade that produced some of the best guitar-driven rock in music history.