Event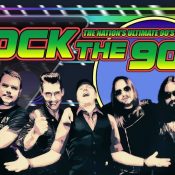 Rock the 90's
Tickets $10
Doors 9:00 Show at 10:00ish…
Ages 21UP or with Parent
https://www.rockthe90s.com
WARNING: If you're expecting bright neon colors, cliche 90's attire and contrived, karaoke style performances…you've come to the wrong place.
90's rock-n-roll was never about that…
Ever.
Rock the 90's USA: The Official 90's Rock Tribute (formerly Broadcast 90: The Ultimate 90's Rock Tribute) takes you back to the glory days of guitar driven rock – an eclectic buffet of all the best in 90's alternative radio rock – performed exactly like the original recordings. No hiding behind gimmicks or costumes – Rock the 90's brings you a high-energy 90's rock show that will take you back to a time when alt-rock ruled the airwaves.
Rock the 90's is not just a band, it's an experience. A well-rehearsed, high-energy show that travels the road of 90's rock on all levels, including the detours and back roads of an often forgotten decade that produced some of the best guitar-driven rock in music history.