Event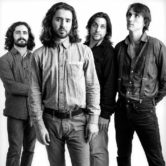 Stop Light Observations W/ People's Blues of Richmond
Venue:

Friday Night

Doors:

8PM – 01:30 am
Tickets are $20 available at the door…Doors 8PM Show at 9PM (This a 21+ Show)
Charleston, South Carolina home-grown artist Stop Light Observations, also known as SLO started playing together at the young age of 13 when songwriter, and pianist Cubby asked guitarist Louis Duffie the iconic teenager boy question…. "wanna start a band?" Through the young years of focusing on writing great solid songs, the young duo picked up childhood friend Luke Withers, and Will Blackburn, to play dem' drums and sing dem' songs! Over time the adding of Coleman Sawyer on bass and fiddle, and Wyatt Garrey on lead guitar, formulated the power-dynamic six piece Rock Group know as Stop Light Observations.
http://www.stoplightobservations.com/
Stop Light Observations plays a unique style described as Southern-Retro-Electro-Rock with influences of ; Classic Rock N' Roll, Indie, Motown, Hip-hop and Folk, Revival, Psychedelic, Garage, and Arena Rock. They claim their drive is the fun and spirit of performing and creating great songs, but most of all the camaraderie that is shared with this group of life long southern friends.The truly unique band Stop Light Observations plans on furthering their impact on the national music fan community and have some fun and change some lives for the good in the meantime.
People's Blues of Richmond
http://www.peoplesblues.com
People's Blues of Richmond is a heavy-touring, blues-psych power trio from Richmond, Va. In the past two years, they've signed with Management Anonymous and Madison House Booking, recorded their third full-length studio album, released a 7-inch single with sought-after rock & roll producer Mark Neill (Black Keys, The Hives, J. Roddy Walston & the Business), and have been featured at outlets such as PopMatters, Guitar World, CraveOnline, Relix and more. People's Blues of Richmond managed to fit in their recent studio work while constantly touring the U.S., packing clubs and theaters full of amped-up fans, selling out The Hamilton in D.C., headlining NYC's Bowery Ballroom and a dozen festivals around the country, playing Red Rocks and massive outdoor festivals like Electric Forest, LOCKN' & Gasparilla, and sharing bills with legends & critical favorites like Modest Mouse, Tom Petty, Gary Clark Jr., Gogol Bordello and Dinosaur Jr.
Their new album (out June 10) was recorded in Richmond by Ricky Olson at The Ward, and is named after the band's intense new one-minute and 35 second hit of proggy psych-punk, "Quit or Die." As People's Blues pounds into the first chorus, singer Tim Beavers II howls, "Compromise is suicide when your choice is quit or die!" The song explores the hardships of addiction, from eviction notices to regrettable drug deals. Quit or Die is filled with thought-provoking lyrics as the band sonically claws through the speakers like some mutant beast. The songs "Richmond City Hangover Blues" and "The House on Oregon Hill" are shout-outs to their filthy/beautiful hometown, while "The March" and "I Understand" both exemplify the band's love of life on tour and all the insanity that comes with it, and "I Love You" and "Just Tears" express the futility and anguish of love gone awry. The moods shifts from dark and brooding to manic and frenzied as if the record itself was suffering from borderline personality disorder.
People's Blues of Richmond was originally formed in 2009 by bass player Matthew Volkes and guitarist Tim Beavers II. They found their first drummer, Raphael Katchinoff in the Richmond music scene and played with him for four years and two albums. During the making of their second album, Good Time Suicide, they were joined by keyboard player Tommy Booker, but he and Raphael soon turned their focus to their other group, Southern Belles. Then, Neko Williams (son of Drummie Zeb from The Wailers) took over on drums. After the switch, Volkes, Beavers & Williams all moved in together and began touring full time in a 15 passenger Ford van. They've been going non-stop ever since, spending all hours of the day either traveling, playing, writing, recording or planning their next step. After years together, on the road and off, the three are more than just bandmates, they're brothers. It's a camaraderie that shows in their music and beyond. "No matter what, we look out for each other," Volkes says. "If I have a sandwich, Tim and Neko get a bite, too. We're all in this together."
The band is currently working on a "Quit or Die" music video before continuing to take audiences by storm with their unbelievable live shows, which often include smashed guitars, blazing light shows and brilliant projections from Dustin Klein of Videometry (who also lives with the band back in Richmond).