Event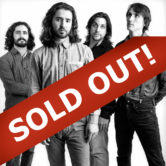 Stop Light Observations W/ Sondor Blue & Jump Castle Riot
Venue:

Friday Night

Doors:

8PM – 01:30 am
Tickets are SOLD OUT!!! (This a 21+ Show)
Charleston, South Carolina home-grown artist Stop Light Observations, also known as SLO started playing together at the young age of 13 when songwriter, and pianist Cubby asked guitarist Louis Duffie the iconic teenager boy question…. "wanna start a band?" Through the young years of focusing on writing great solid songs, the young duo picked up childhood friend Luke Withers, and Will Blackburn, to play dem' drums and sing dem' songs! Over time the adding of Coleman Sawyer on bass and fiddle, and Wyatt Garrey on lead guitar, formulated the power-dynamic six piece Rock Group know as Stop Light Observations.
http://www.stoplightobservations.com/
Stop Light Observations plays a unique style described as Southern-Retro-Electro-Rock with influences of ; Classic Rock N' Roll, Indie, Motown, Hip-hop and Folk, Revival, Psychedelic, Garage, and Arena Rock. They claim their drive is the fun and spirit of performing and creating great songs, but most of all the camaraderie that is shared with this group of life long southern friends.The truly unique band Stop Light Observations plans on furthering their impact on the national music fan community and have some fun and change some lives for the good in the meantime.