Event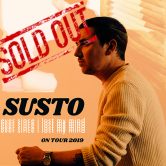 SUSTO "The Official Album Release Show" W/ Frances Cone & Mel Washington
Venue:

Thursday Night

Doors:

07:30 pm
This show is 18 Plus Years of Age (Please Read Ticketing and pricing Details below)
Tickets: SOLD OUT
Under 18 must be accompanied by parent
Doors 7:30
Mel Washington 8:00
Frances Cone 8:45
SUSTO: 9:35
Mobility has always helped define America. Don't settle for where you start. Find a new town, new coast, or new state of mind — then make it yours. "We export this idea of getting in your car and going somewhere, trying to find something new, bouncing around," says Justin Osborne. "We live in some strange, crazy times. There is a sense of darkness. But I'm crisscrossing the country, and people are good and fun. There is a lot of beauty everywhere. I think not forgetting that is important."
Osborne is home in Charleston, South Carolina, reflecting on the personal journey and cultural climate that have led to Ever Since I Lost My Mind, the third record and label debut for his acclaimed project SUSTO. The album is a resounding triumph: a mix of new partnerships and collaborations with old friends, all anchored by Osborne's perceptive songs that explore connection, loss, and transience — and the pain and joy each brings.
"Ever Since I Lost My Mind is very personal. This collection of songs came together over the course of a couple of years, and they all represent different moments," he says. "It felt cathartic writing all of them, and they were also all fun in different ways."
With a rock-rooted sound that doesn't shy away from radio-ready hooks, SUSTO keeps listeners engaged by refusing to occupy an easily defined space. Produced by Ian Fitchuck (Kacey Musgraves, Ruston Kelly) and featuring key input from Osborne's longtime creative sounding board Wolfgang Zimmerman, Ever Since I Lost My Mind defiantly experiments with synth embellishments, Latin heart, guileless folk, and more. Osborne's mellow vocals comfort without losing the ability to surprise — delicate croons, growls, and occasional screams take turns.
Osborne wrote his first songs as a 14-year-old in small town South Carolina, sneaking time with his late grandfather's parlor guitar that his parents had actually forbidden him and his three rowdy brothers to touch. "So I'd go steal it out of my dad's closet whenever they were out of the house," he recalls. "It only had like three strings on it. I remember figuring out how to do barre chords, and I wrote a three-chord song about a girl I liked." Drawn to music and supported by parents who just hadn't wanted their boys to break a family heirloom, Osborne played in bands throughout high school, military school, and college.
But SUSTO didn't begin until Osborne thought he was walking away from music for good. Burned out after years of self-booking, self-management, and a relentless grind, he had played a farewell show with his then-band and was prepping for a move to Cuba. He set up an online home for SUSTO as a holding tank for demos he couldn't quite bear to toss.
When Osborne moved to Havana as part of a study abroad opportunity, he thought he was abandoning music for anthropology. But the Cuban musicians and artists he befriended had other ideas. They were among the first to see that SUSTO — and the music that would ultimately fuel it — captured him too well to remain an afterthought. Re-energized, he returned to the States half a year later and recorded SUSTO's first album. Just after the release of the band's self-titled debut album, Osborne faced a clear choice. "It was a weird moment. I just had to finally quit keeping one foot out of music and dive in. So, I got knuckle tattoos and haven't stopped trying to make this work since then," he says with a laugh. SUSTO's acclaimed sophomore album & I'm Fine Today made it even more clear that music and Osborne were meant to be.
In Latin American cultures, the word susto describes an intense fear understood as a condition of the soul — an ongoing, spiritual panic attack. All of the letters of susto also appear in Osborne's full name. "SUSTO was this combination of phonetics and meaning — it felt like me, like a name for myself," he says. "I chose the name SUSTO for the project because the meaning behind the word — that deep fright — was something I was experiencing, and songwriting felt like it was helping me cure it by helping me to process what was happening. Personally, it was a time of so many powerful transitions: abandoning my religion, losing touch with my family, and just having a general sense of being lost, without direction."
That nod to transition reverberates loudly throughout Ever Since I Lost My Mind. While SUSTO began as a band and still benefits from collaboration with peers, the new record also positions the project finally and firmly as what it's really always been: Osborne's vision. "I come from a background of being in bands, so it's hard for me to be comfortable taking complete control," he says. "Even being the only person in a promo photo was a hard thing for me to get used to. It's taken years for me to realize what SUSTO should be — what it really is."
"Homeboy" kicks off the album. Osborne contemplates friends moving on from Charleston over jaunty acoustic guitar that evokes exploratory rambling before heavier electric guitar adds gravity to all the leaving. He didn't want loved ones to go, but then realized that in many ways — even though Charleston remains home base — he'd already left. "The whole album deals with these pulling-apart decisions — not in a negative or a positive way, but in a reflective way," he says.
Sauntering "If I Was" is a lighthearted stroll through different identities and aspirations, followed by the optimistic yearning of "Weather Balloons," buoyed by punchy percussion and keys. Driving "Last Century" revels in timeless bonds revealed by details: "I can see you in the driveway, smiling, licking your left front tooth," he sings.
"Livin' in America" extols beloved U.S. cities and finding the right people in them. It's a self- aware ode, both gently sarcastic and totally sincere — a timely love letter to a country whose defining quality today is often turmoil. Stripped down "Cocaine" skulks through dark corners, while "No Way Out" lounges in captivity that Osborne has no urge to escape. Gorgeous album closer "Off You" is bright and honest, an intimate moment of clarity mid-transition.
One of Osborne's favorite tracks, "Manual Transmission," was written on a cold day on tour in Norway when he was hounded by homesickness. He plays lead guitar on the track and relished the opportunity to express himself via aching strings in addition to words. "Esta Bien" soars sweetly and entirely in Spanish. "House of the Blue Green Buddha" is a love song that lands because of its whimsical specificity — details from the home and closeness Osborne and his wife share.
The title track is a stunner: sad but hopeful, content but restless, nostalgic but progressive — a beautiful encapsulation of the push and pull that shapes the entire record. Osborne's experiences with psychedelics also play a role, both in "Ever Since I Lost My Mind" and the album as a whole. Warned as a child that drugs would make him lose his mind, he now believes in the freedom and self-discovery that can come with letting go in various ways. He is also convinced that some people from his past think he's insane. "They think I'm a crazy hippie, and really, in a lot of ways, I guess I am," he says with a smile. "I feel more loving and more understanding."
That acceptance of himself and others may be SUSTO's defining trait. "I can lose my mind on stage sometimes — I will break down and cry or have to keep myself from doing it," Osborne says. "I think about my grandad's guitar, all the bands I've been in, and just seeing these people responding to and connecting with the songs…" He trails off before grinning again and adding, "I just feel so incredibly lucky."
Frances Coneis a Nashville based soulful indie band. For someone with deep familial roots in opera and classical music, founder Christina Cone seems preternaturally capable of writing songs focused on capturing the insane, unthinking fireworks of the human heart. Anxiety. Heartbreak. Transcendent love. The secrets of a diary so sacred and precious it only exists internally, every word an eyes-shut-tight whisper. To create music like that, such as on their forthcoming album 'Late Riser', takes actual, emotional bravery. It takes a level of empathy and love that stays locked and unavailable in most people. Luckily, Christina and her multi-instrumentalist musical and life partner Andrew Doherty found each other in Brooklyn NY a few years ago and all the locks failed. They started creating what would become half of 'Late Riser'. Between them there was just enough courage to hold hands and jump.
They landed in Nashville, TN and immediately found a home in the city's thriving alternative scene. There were challenges and successes and lots of hard work but all along the songs kept coming. Music lovers at Noisey, Billboard, Stereogum, and Brooklyn Vegan among others began to take notice. NPR invited the band to perform at their Tiny Desk concert series and they garnered more than 12 million streams on Spotify. The seed of a musical identity first hinted at on Cone's 2013 release 'Come Back' blossomed into something unignorable and meaningful. After years of patience and perseverance, 'Late Riser' was finally finished. The record is a testament to what modern pop music is capable of when imbued with honesty and emotion so palpable you can taste it in your mouth. It's not opera, and it's not the result of any calculation or outside influence. It is pure feeling: watching a fireworks display through happy tears.
https://www.francesconemusic.com