Event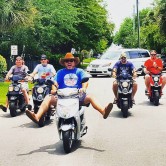 The Piedmont Boys
Venue:

Wednesday Night

Doors:

10PM – 1AM
FREE SHOW STARTS AT 10ish
We play Blue Collar Southern American Music and hail from Greenville SC. Giddy Up!
http://www.thepiedmontboys.com
Piedmont is a plateau region located in the eastern United States between the Atlantic Coastal Plain and the main Appalachian Mountains, stretching from New Jersey in the north to central Alabama in the south. The Piedmont province is a physiographic province of the larger Appalachian division. The province consists of the Piedmont Upland and Piedmont Lowlands sections. The Fall line marks its eastern boundary with the Coastal Plain. To the west the Piedmont is mostly bounded by the Blue Ridge Mountains, the easternmost range of the main Appalachians. Physiographically, the Piedmont is considered a province of the larger Appalachian Highlands physiographic division. The width of the Piedmont varies, being quite narrow above the Delaware River but nearly 300 miles (475 km) wide in North Carolina. The Piedmont's area is approximately 80,000 square miles (207,000 sq km). The name "Piedmont" derives from the Italian region of Piedmont (in Italian: Piemonte). The word means "foothills" or "at the foot of a mountain".